Preparing our Kids for Kindergarten Together!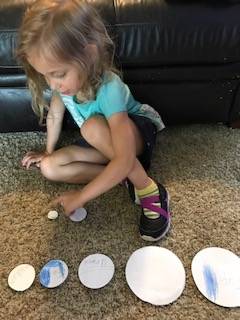 (Photo: 3.5 year old Emily has decorated all of the planets and is now putting them in order from largest to smallest. She loves learning about space!)

Are you ready to have some fun?
Do you have a child who is supposed to go to Kindergarten in the year 2020? That is next year!!

Kindergarten is coming and we want to make sure our kids have all the skills they need to have the best first year ever!
What are the kids supposed to know anyway? What if they don't want to trace words and complete the worksheets I print out for them?
You are not alone! All parents of Pre-K students are wondering the same thing. That is why I created the Pre-K YOUR Way Community!
Join our community of parents who want to teach their kids through active play, encouraging kids to love learning!