The Best Preschool Books and Activities That Teach Important Life Skills!
Are you looking for amazing books that teach your child important life skills through play?
Perfect for parents and teachers, this series includes stories and activities that teach children how to:
Calm down instead of tantrum.

Stay safe if they get lost.

Count from 1-20 in English, Spanish and French.

Share space and toys with friends.

Identify letter sounds and formation.

Be friendly with everyone, no matter the way they look or the abilities they have.
Sammy the Golden Dog teaches children all of these skills through rhyming stories, and playful activities. This golden retriever will surely be your child's most favorite learning friend!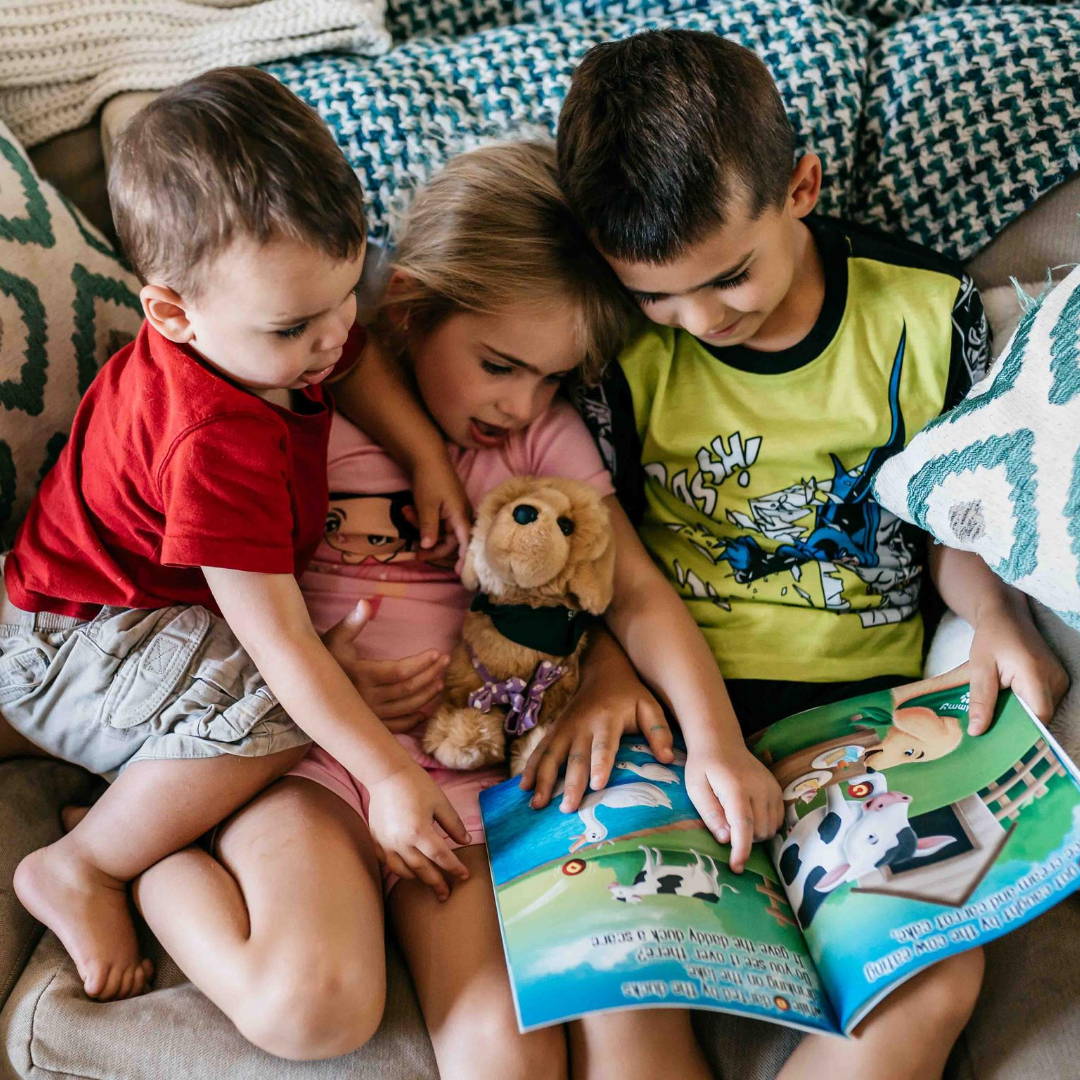 Part 1 of 6: Soothing Sammy Emotions Program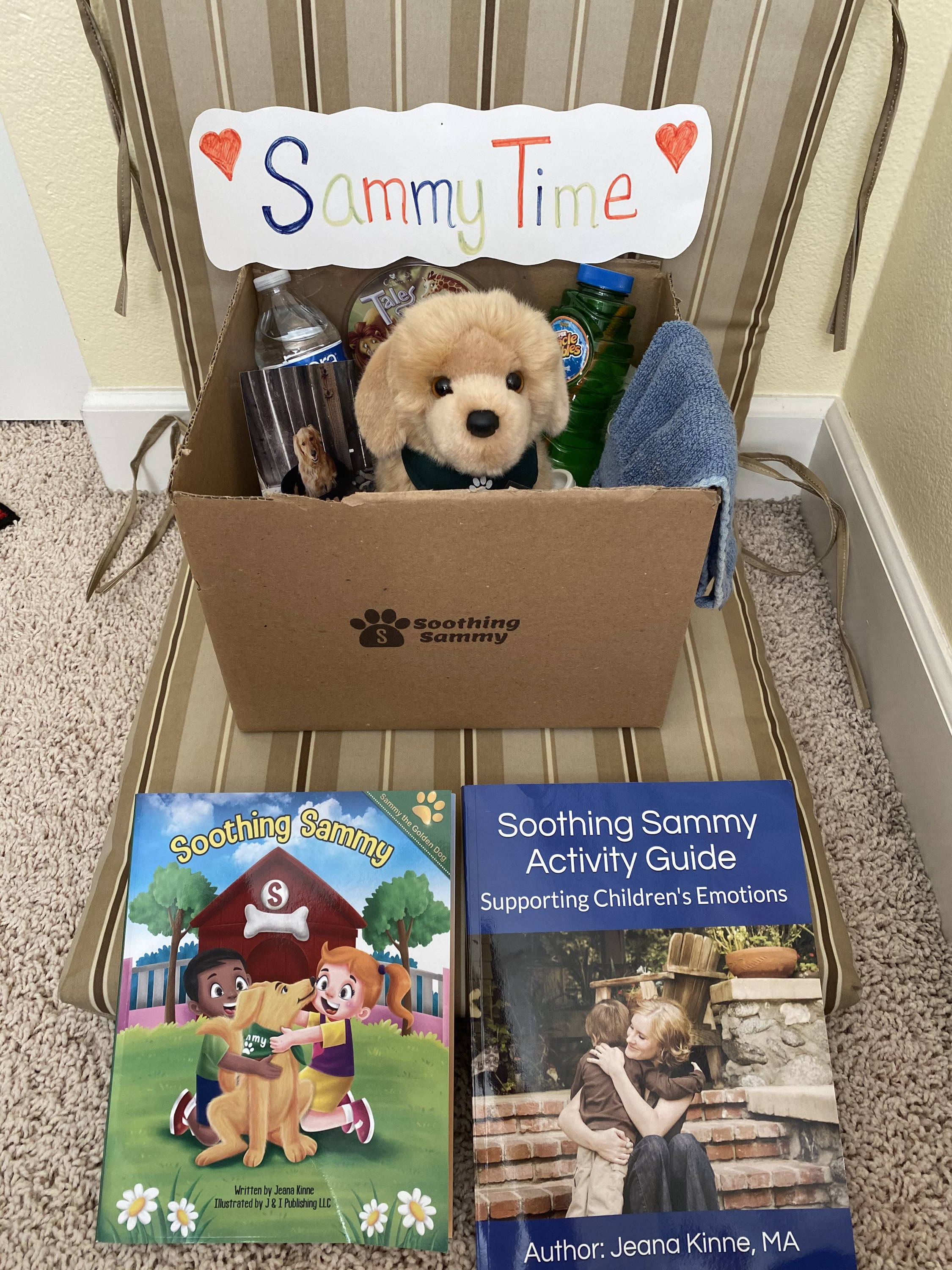 "Soothing Sammy" teaches children (ages 2-6) how to calm down, communicate their feelings and problems solve in a way that is easy for them to understand and simple for your to implement. It works at home and at preschool!
"Soothing Sammy" teaches preschoolers how to:

Calm Down without screaming.
Problem Solve.
Talk about how they feel.
All you have to say is "Sammy Time" and your child will know just what to do.
Includes:
1. Soothing Sammy (Children's Book)
2. Plush Golden Retriever Dog
3. Soothing Sammy Music (MP3 Versions emailed right after purchase)
4. Sammy Activities (digital PDF download emailed right after purchase)
5. Soothing Sammy Behavior Guide (Book)
6. Emotions and Feelings (Poster)
Part 2 of 6: Sammy Alphabet Bundle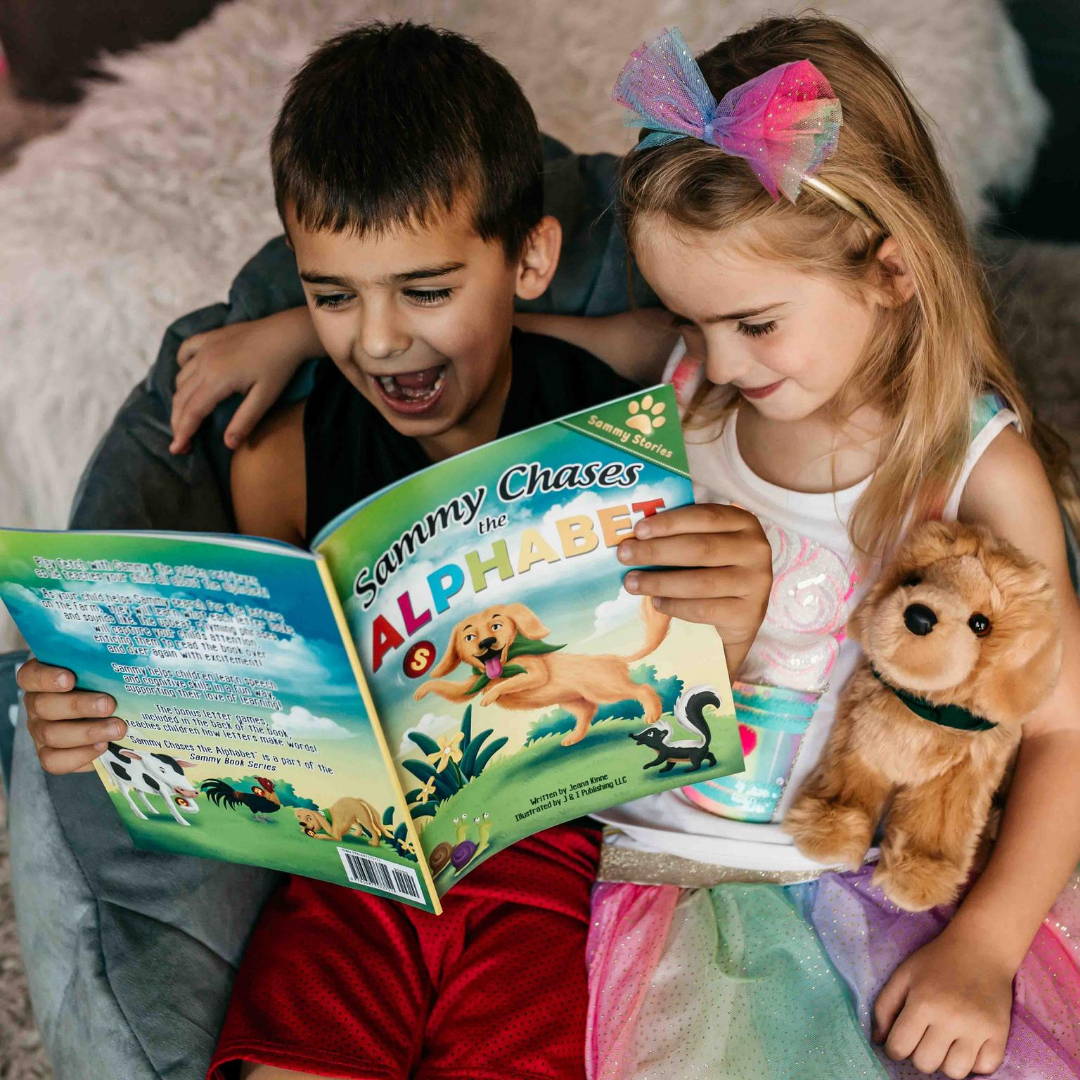 Teach the Alphabet through PLAY!
Three Piece Sammy Alphabet Set Includes:

1. Sammy Chases the Alphabet (Children's Book): Play ABC fetch with Sammy, the golden retriever, around his farm!
2. The Playful Alphabet (Activity Book): Over 130 easy and fun movement and sensory activities that uses items you already have. Children learn:
the shape of each letter.
how to identify/name each letter.
how each letter sounds (phonological concepts.)
3. Sammy Alphabet Games (PDF)
Sammy ABC Letters for painting or tracing.
Sammy Play Dough ABC's
Sammy's Letter Hunt
and many more!
Part 3 of 6: How to Stay Safe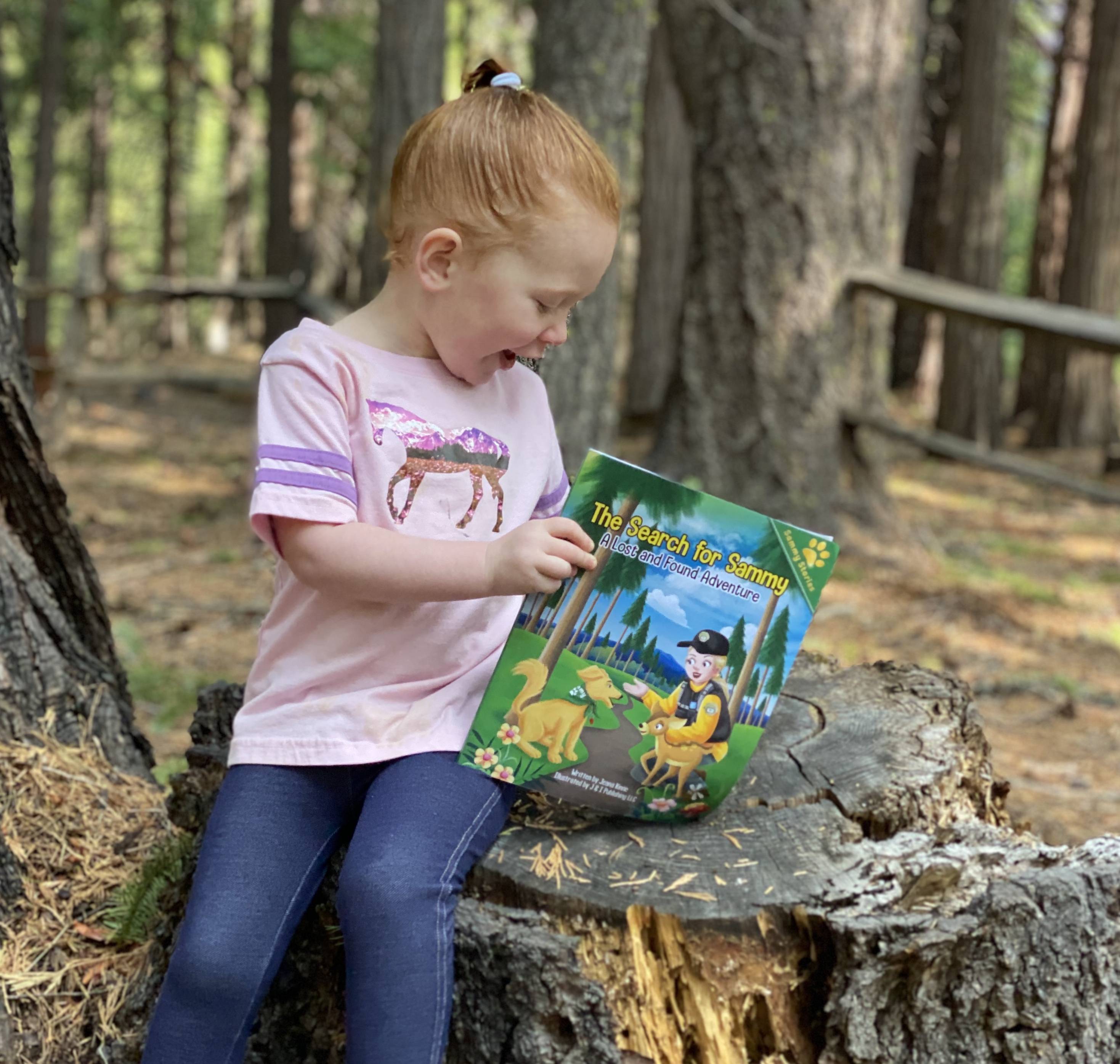 Teach children how to stay safe if they ever become lost. I partnered up with our local Search and Rescue Volunteer team to write this Sammy book. Together we discussed all that children would need to remember if they ever became lost in nature, in a neighborhood or at a large event.
One theme kept emerging as I was listening to the SAR team. It takes a long time to find children because they tend to continue to wander if they become lost, moving farther away from the spot their guardians last saw the.
In this book, Sammy teaches children to find a tree and stay there in a positive and engaging way. The games included in the back to the book help children remember how to stay safe through play!
BONUS audiobook of the story is emailed to you immediatly upon purchase

Part 4 of 6: Sammy's Counting Adventure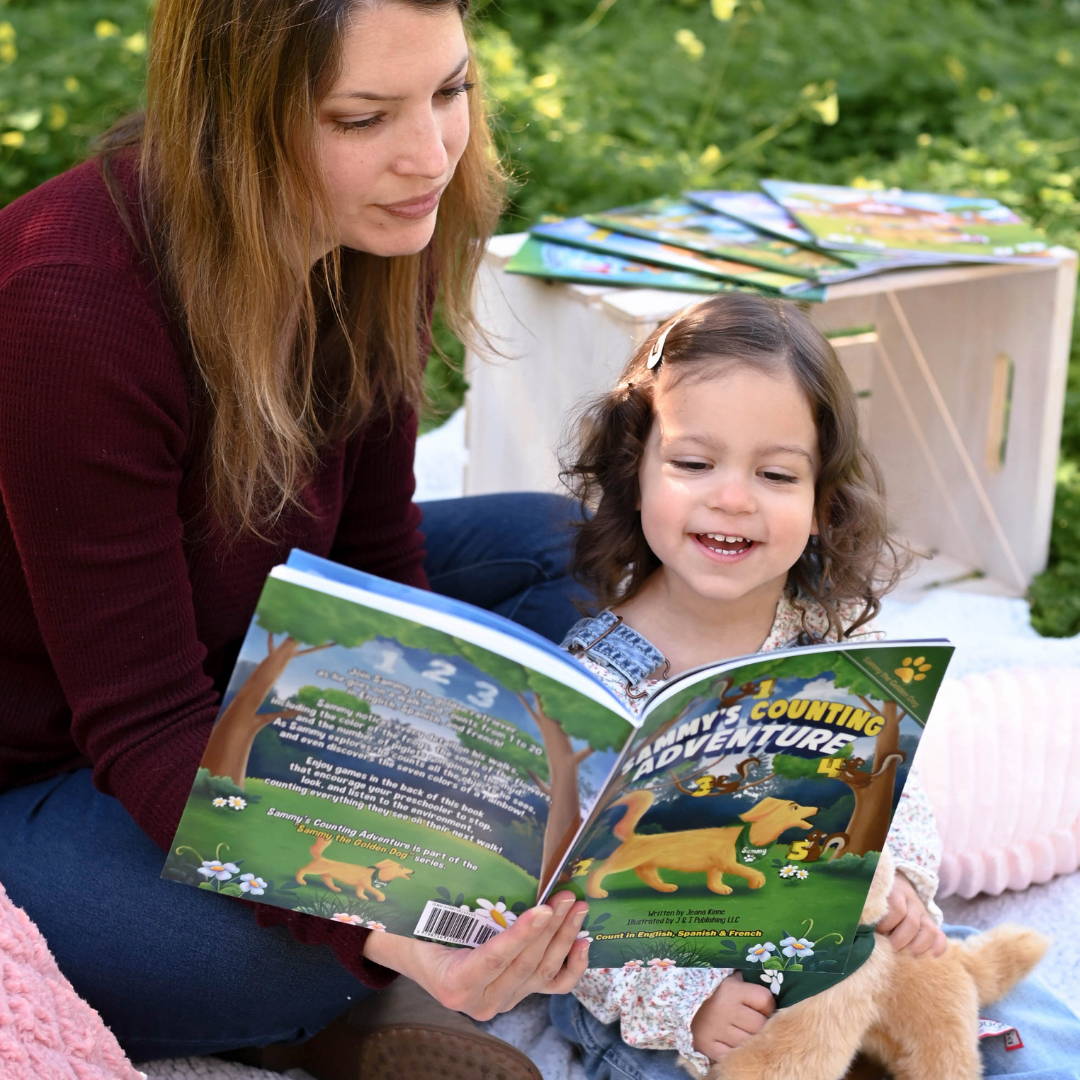 Join Sammy, the golden retriever, as he goes on a walk and counts from 1-20 in English, Spanish and French!
Sammy notices every detail on his walks, from the color of the frogs, the smell of the flowers to the number of piglets romping in the mud! As Sammy explores, he counts all the objects he sees, and even discovers the seven colors of a rainbow. Your preschooler will have a great time helping Sammy explore and count from 1 through 20.
The games in the back of this book will encourage your child to stop, look and listen to the environment, counting everything they see on their next walk!
BONUS audio books reading this story in French and Spanish are emailed to you along with your purchase! Translations of the story are included in the back of the book!
Part 5 of 6: Sammy Learns to Share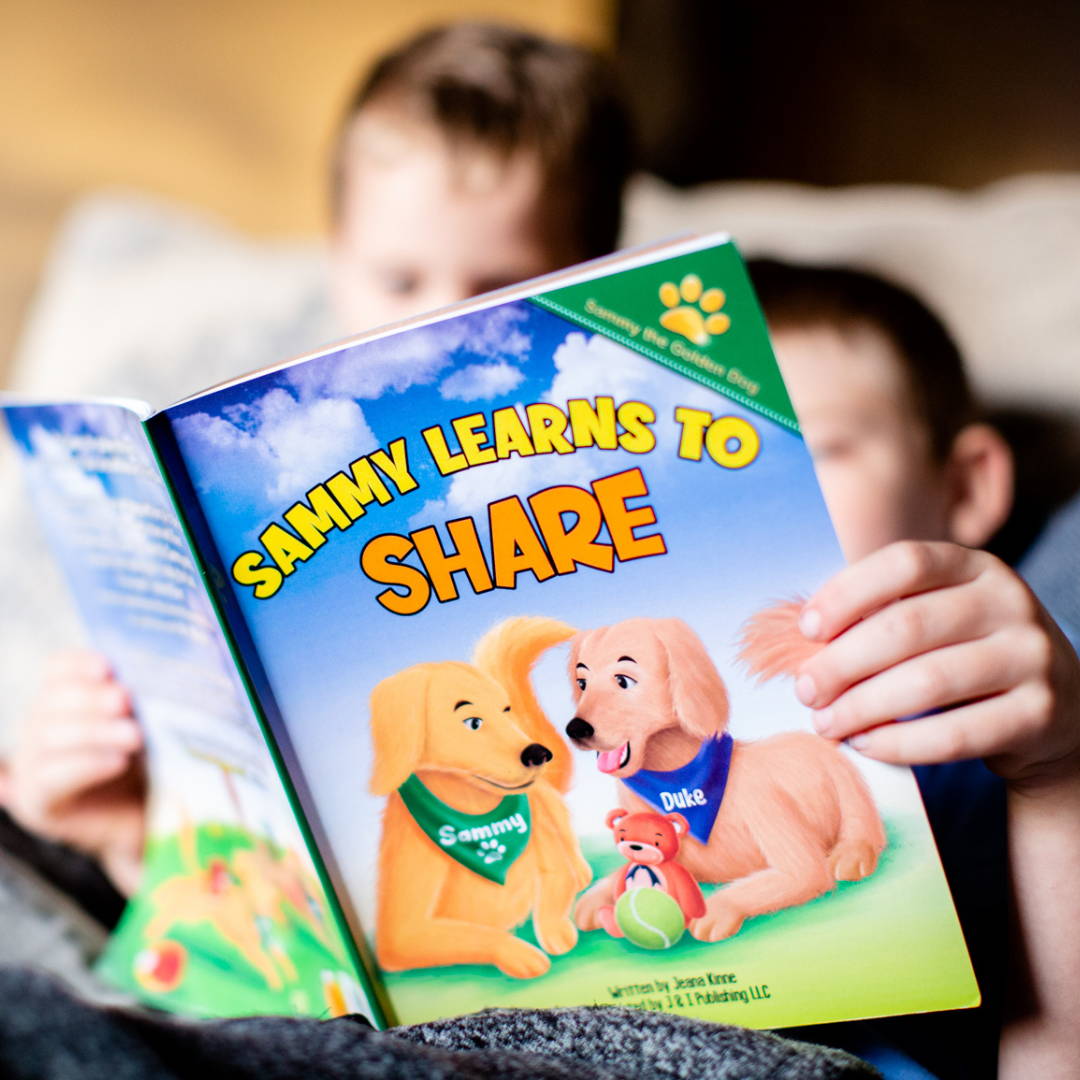 Learning how to take turns has never been so much fun!
Join Sammy, the golden retriever, as he learns how to take turns with his best friend, Duke! This colorful rhyming book brings a positive spin to sharing, teaching young children patience while building friendships.
Sammy loves his stuffed bear and plays with him all of the time. During a play date, Duke wants a turn with Bear, but Sammy doesn't want to share! Sammy learns that sharing isn't that bad as he plays with his other toy, Mr. Moose, while he waits for a turn! This story is perfect for teaching children how to share their space and toys with friends, siblings and family members.

BONUS tips and resources in the back of this book to encourage your child to share using their very own turn card and a turn-taking list!
Part 6 of 6: Sammy Goes to Preschool
Sammy, the golden retriever, discovers that preschool is a lot of fun and that he can be friends with everyone!
Throughout the preschool day, Sammy learns that although his friends look different than him, they can still play together. Chaz, the piglet, Mylie, the duckling, and other baby animals, spend the day playing games, singing songs, eating snack and learning new skills.

This story teaches diversity, inclusion and equality, by celebrating the uniqueness in every child. Sammy learns that he can be friends with children of all skill levels and abilities.
BONUS Games included in the back to the book help children identify what makes them unique and why they are special.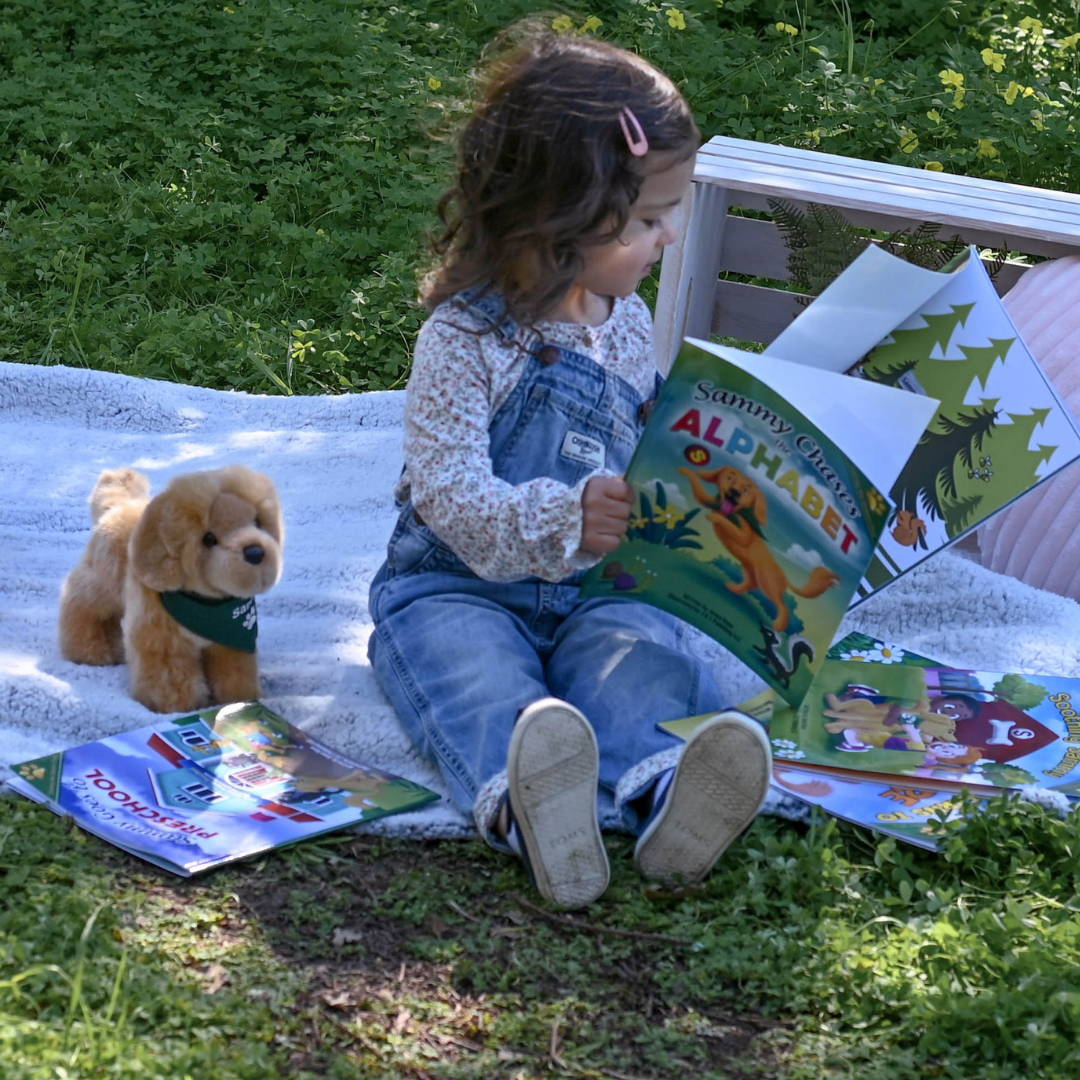 Hi! My name is Jeana, an early childhood educator by day and a children's book author by night! As a preschool teacher I have read all the popular books to my children, but there were some skills I wanted to teach and couldn't find the resources for. So I researched how to publish children's books and created this Sammy the Golden Dog series!

More about Jeana
Jeana Kinne received her Masters Degree in Early Childhood Education and has over 20 years of experience working in a variety of positions within the Early Childhood field. She has worked as a Parent Educator, Preschool Director, and currently works with children with special needs. Jeana's goal is to provide families and Preschool Teachers with fun and engaging ways to teach young children important skills. Sammy, a golden retriever, was inspired by Jeana's sweet golden, Kona.