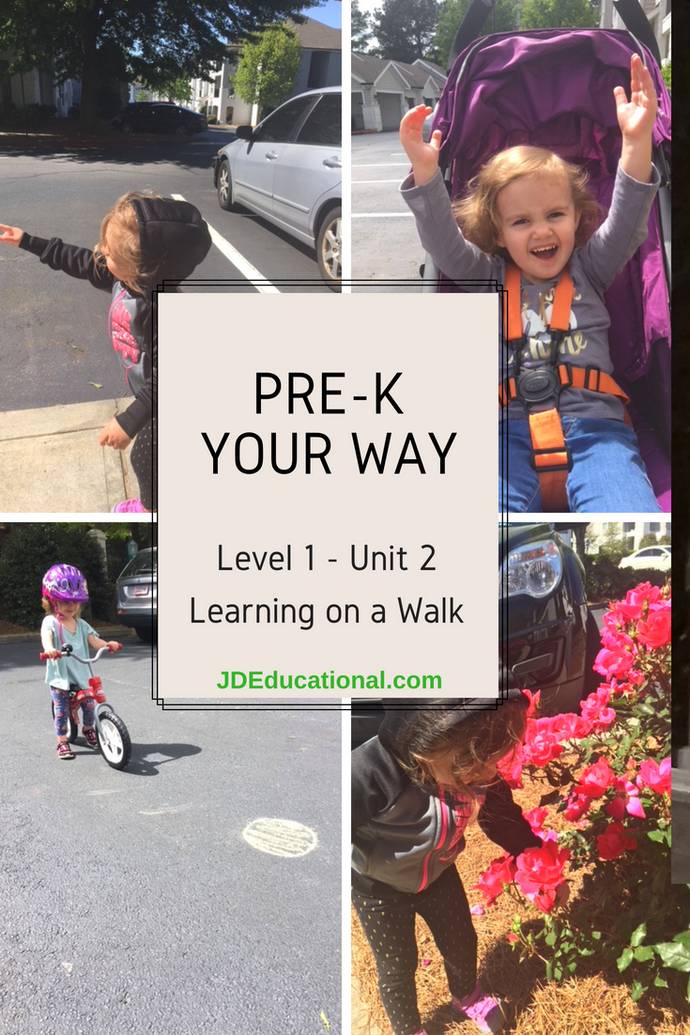 Level 1: Unit 2: Going On A Walk Activities
* EBOOK/PDF digital download will be emailed to the customer immediately upon purchase. No taxes or additional delivery costs are added at checkout.
The 2nd Unit of the Pre-K YOUR Way Level 1 Series.
Perfect for children ages 2 though 6, these 15 minute activities teach math, science, language and motor, social and self help skills! The step-by-step activities guide you through movement, music, art, cooking and more playful games, teaching your child everything they need to be successful in Preschool and Kindergarten (in Public, Private or Homeschool). This two-part, 40 page, digital download includes:
Part 1: 10  "Learning on a Walk" Academic Activities:

The "Learning on a Walk" Theme includes activities that help your child learn a variety of skills while walking around a neighborhood or park. Activities include stroller ride games, riding a tricycle and walking activities. Examples include: "Color My World", "Up in the Sky" and "Movement Pattern".
Materials List - All activities utilize items/materials typically found in the home (no need to buy more stuff to complete these activities).
Part 2: Parenting Guide: "Understanding Safety Rules" walks parents through strategies teaching children about safety. It discusses how to teach children age- appropriate rules and expectations when walking around outside, including looking both ways before crossing the street. Explaining expectations before starting this adventure will encourage listening skills.